Event Details
14:00 - 15:30 Geneva Time
We invite you to join us for the second webinar of our three-part webinar series focusing on productive uses of energy for improved livelihoods in humanitarian contexts.
The webinar "Planning Energy-Livelihoods Interventions in Humanitarian Settings – Tools and Delivery Models " focuses on tools for planning energy-livelihoods interventions followed by a panel discussion on different delivery models. Examples and experiences from Sierra Leone, Ethiopia, and India.
The series is co-hosted with the SELCO Foundation and brings together existing knowledge on solutions, delivery models and the broader ecosystem interventions that have been implemented in specific humanitarian contexts. Throughout the series, case studies and tools will be presented to support practitioners in assessing energy-livelihood needs and designing such programmes.
This webinar series is part of the overarching webinar series "Sustainable Energy in Humanitarian Settings". It is organized jointly by the International Committee of the Red Cross (ICRC), energypedia UG and the United Nations Institute for Training and Research (UNITAR). The webinar series is a contribution to the Global Platform for Action on Sustainable Energy in Displacement Settings (GPA).
Read more: https://energypedia.info/wiki/Webinar_Series:_Sustainable_Energy_in_Humanitarian_Settings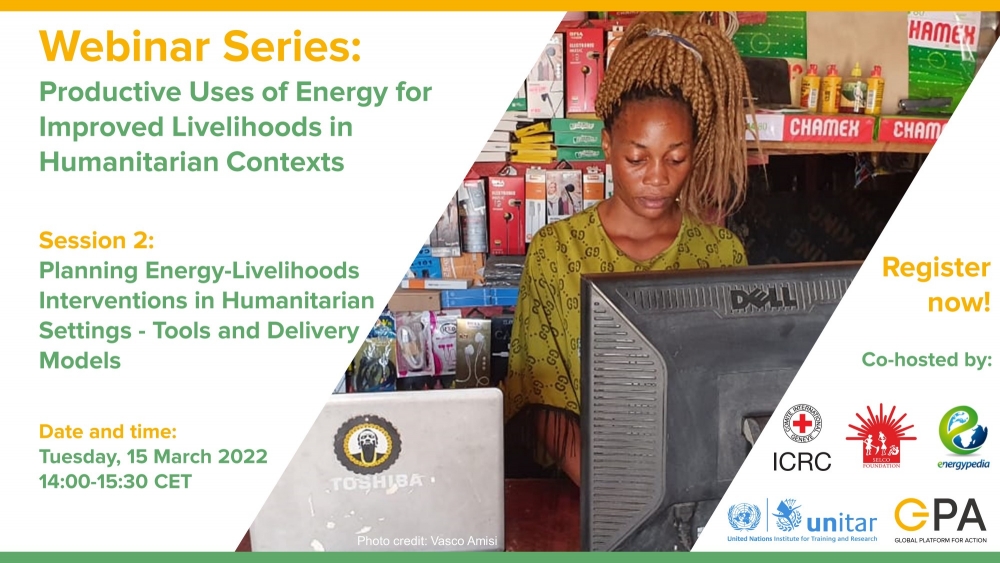 Last updated: 07/03/2022