Energy access is critically important in humanitarian settings because refugees and displaced people need electricity for their homes and businesses, to power their community spaces such as WASH facilities, and to support humanitarian institutions (GPA 2021). Life without modern energy is radically constrained and displaced people have very limited quality of life without access to electricity and clean cooking sources. Without access to energy, refugees and displaced people can not work or study at night, they do not have electricity for their livelihoods, and they are unable to move around safely in their communities after dark (UNHCR 2019). Displaced people can not become self-reliant without access to modern energy resources and progress towards global climate goals will not be made without renewable solutions for energy needs (Lahn and Grafham 2015).
The world faces a growing humanitarian challenge: by the end of 2021, over 80 million people are now forcibly displaced from their homes by multiple and protracted conflicts (UNHCR 2021). This is a growing crisis, with over 26 million people forced over borders as refugees and 48 million people internally displaced within their countries. The impacts of COVID-19 together with forced migration from armed conflicts and climate change are expected to acutely impact a substantial number of countries that host forcibly displaced populations or are a source country for displacement: raising the numbers of globally displaced people further in the coming years. Within this context, displaced people lack access to clean cooking solutions and are often not able to access sustainable electricity to meet their needs.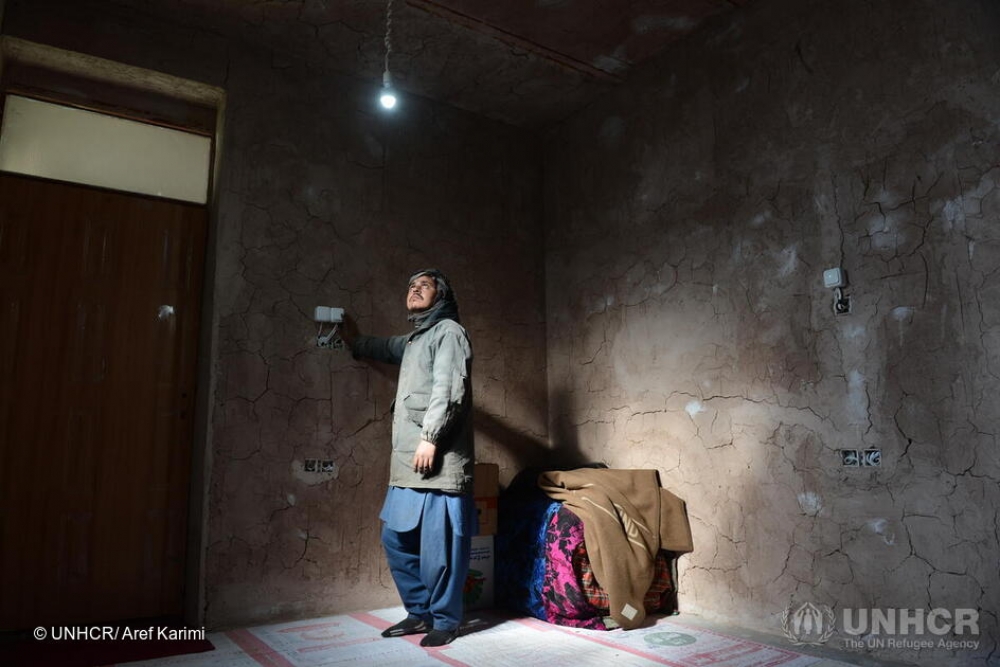 The realities of living without access are extreme (Mercy Corps and GPA 2020). Many people still cook over three-stone fires using firewood and live in the dark at night. Small enterprises run by displaced people are not able to access the energy they need to run their businesses, provide local jobs, or drive local economic development. Community facilities such as schools, hospitals, WASH facilities, and refugee community spaces are without reliable power. Humanitarian facilities, offices, compounds and registration spaces use expensive and polluting diesel fuel. These factors reduce the quality of life of refugees and displaced people, cause financial and environmental pressures on humanitarian agencies and host communities, and contribute to global climate emissions (UNITAR 2018).
Humanitarian energy is a new and emerging sector, one which has a number of definitions and elements (Al-Kaddo and Rosenberg-Jansen 2021). Increasingly the co-benefits of providing long-term renewable energy solutions are recognised alongside the need to supply basic energy technologies in emergency settings. Currently the key definition for the humanitarian energy sector is:
"Institutions, policies, programmes, global initiatives, actions and activities which use a range of sustainable and fossil fuel energy sources in contexts of displacement, to meet the energy needs of people in camps and urban settings, self-settled refugees, host communities, and internally displaced people". Humanitarian energy covers needs during emergencies and protracted situations, and all populations impacted by war, famine, violence and persecution, climate change, and natural disasters, and can be considered the umbrella term for the sector. (From: Rosenberg-Jansen, 2020, p17).
Access to energy is important for all types of displaced people: including both refugees, who are often managed under the remit of the UN High Commission for Refugees (UNHCR), internally displaced people - IDPs - who are supported by the International Organisation for Migration (IOM), asylum seekers, migrants and those displaced by natural disasters and the impacts of the climate crisis. The Global Platform for Action (GPA) for Sustainable Energy Solutions is the global UN-led initiative to promote actions that enable sustainable energy access and use in displacement settings. Together with our partners in UNHCR, IOM, WFP, FAO, UNDP, UNEP, SE4ALL, NGO partners, and leading advocacy organisations, the GPA strives to remove barriers to energy access in humanitarian settings by providing a collaborative agenda for energy, development, and humanitarian partners to deliver concrete actions of Sustainable Development Goal 7 (SDG 7) for displacement contexts.
Energy is needed in displacement settings within several spaces (Rosenberg-Jansen 2019). Firstly, at the household level for people to have lighting, heating, cooling, cooking and power available within their homes or temporary dwellings. Common energy technologies in displacement settings at the household level are solar lanterns, small cookstoves, and firewood. Secondly, energy is needed by businesses and enterprises run by displaced people. Many types of technologies are used by enterprises in displacement settings, including solar systems, informal mini-grids, larger cookstove technologies powered by gas and electric, and power for micro-enterprises and productive uses within displaced settlements (ENDEV 2021). Thirdly, at the community facility level solar street lighting is common to light public spaces. Many community spaces also connect formally or informally to local diesel generators, mini-grids, and sometimes the national grid (Nixon et al 2021). Finally, for institutions and humanitarian aid providers such as UNHCR and their NGO partners, large-scale electricity is needed. Often remote humanitarian locations such as refugee camps are powered by diesel generators, whereas humanitarian offices based in capital cities or towns are frequently connected to the national grid (GPA 2021).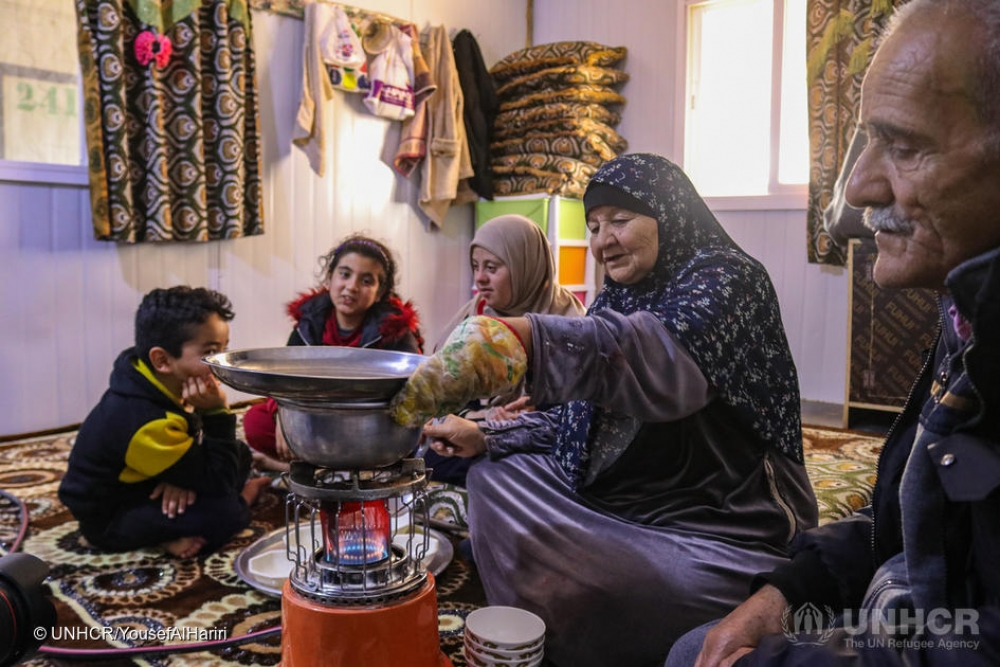 Energy in displacement settings is currently from both fossil fuels and sustainable sources of energy. For example, many displaced people in Sub-Saharan Africa use firewood and three stone fires to cook their food, and basic lighting technologies using kerosene or batteries for lighting are common. In the Middle East and South Asia, technologies such as LPG or clean cooking fuels are often used for household cooking (Grafham 2020). Electricity is mostly provided in humanitarian contexts by polluting and expensive diesel generators, although increasingly solar solutions for both small-scale use (lanterns and solar home systems) and larger power needs (solar or hybrid mini-grids or renewably generated grid power) have been used in displacement settings (Grafham 2018).
Energy is generally recognized as a basic human right, however, a majority of displaced populations still lack sufficient access to clean, sustainable, reliable, appropriate and affordable energy. Incredibly, some 85 percent of refugees in camps burn biomass such as firewood for cooking, and some 97 percent have limited or no access to electricity (Lahn and Grafham 2015). The impacts of limited access to energy can have severe repercussions on the safety and security of displaced people. Cooking energy shortages, which are often inadequately addressed throughout all phases of the humanitarian response, can lead to protection and health risks. In refugee camp settings, the lack of lighting and connectivity affects refugees' security and limits their opportunities for socialization, learning and self-reliance. In situations where firewood is the main source of fuel, the competition for dwindling natural resources is frequently a trigger for tension between refugees and host communities. Lack of access to clean cooking resources also has negative impacts on local ecosystems: for example, environmental degradation from tree-cutting for firewood can be long-lasting, expensive, and difficult to reverse. Additionally, financial and environmental costs are high where the energy needs of communities and support facilities are addressed, as it is often the case, by means of inefficient appliances with poor monitoring of energy consumption and no incentives for energy efficiency or shifting to renewable energy (World Bank 2017).
Humanitarian systems are increasingly moving to provide energy access through renewable or sustainable sources such as solar power. Sustainable and clean energy can provide significant benefits associated with protection, gender equality, food security, water, sanitation, health, education, livelihoods, connectivity, and environmental protection. Access to energy also enables women to gain greater control over their lives and futures. Cleaner cooking fuel reduces indoor pollution and fire-related hazards while improving nutrition. Installing solar energy or other electrification services to health posts also improves the availability of clinical services. Energy access allows for diversification of livelihood activities, improved education opportunities, less reliance on diminishing local resources and overall increased resilience. Sustainable, clean energy therefore is a critical means of achieving the protection and wellbeing of forcibly displaced populations, as well as a key factor in creating more sustainable and inclusive communities and mitigating climate change impact (NORCAP 2020).
Sustainable energy access in humanitarian settings is now more critical than ever, to support the mitigation of the climate crisis and enable recovery from the long-term impacts of the COVID-19 crisis (GPA 2020). Displaced communities are being left behind in progress on sustainable development. It is highly likely that Sustainable Development Goal 7 (SDG7), ensuring access to affordable, reliable, sustainable and modern energy, will not be met for refugees or internally displaced populations (IDPs) by 2030. The humanitarian system has made repeated, international commitments to improve the lives of displaced people, through the Grand Bargain and the UNHCR-GPA Clean Energy Challenge (IASC 2016 and UNHCR 2019). However, the hard reality is that progress on sustainable energy remains limited despite these commitments. Ahead of the High-Level Dialogue on Energy (HLDE) in New York in September 2021 and the UNFCCC COP process in Glasgow in November 2021, the GPA and partners have issued a Call to Action for sustainable energy to be urgently provided for humanitarian communities across the world.
Last updated: 27/09/2021