We invite you to join us for a three-part webinar series focusing on productive uses of energy for improved livelihoods in humanitarian contexts. The series is co-hosted with the SELCO Foundation and brings together existing knowledge on solutions, delivery models and the broader ecosystem interventions that have been implemented in specific humanitarian contexts. Throughout the series, case studies and tools will be presented to support practitioners in assessing energy-livelihood needs and designing such programmes.
The first webinar "Understanding the Energy-Livelihoods Nexus: Challenges and Opportunities in Humanitarian settings" focuses on the energy-livelihoods nexus in humanitarian contexts. It will present options for energizing different value chains as well as discussing common challenges in meeting needs not only with regard to end-users but also from development and private sector partners. A following panel discussion with practitioners and entrepreneurs from Kenya and Tanzania will highlight different examples of renewable energy benefits to livelihoods.
Date and Time: Tuesday, March 1, 2:00-3:30pm CET (check your local time)
This webinar series is part of the overarching webinar series "Sustainable Energy in Humanitarian Settings". It is organized jointly by the International Committee of the Red Cross (ICRC), energypedia UG and the United Nations Institute for Training and Research (UNITAR). The webinar series is a contribution to the Global Platform for Action on Sustainable Energy in Displacement Settings (GPA).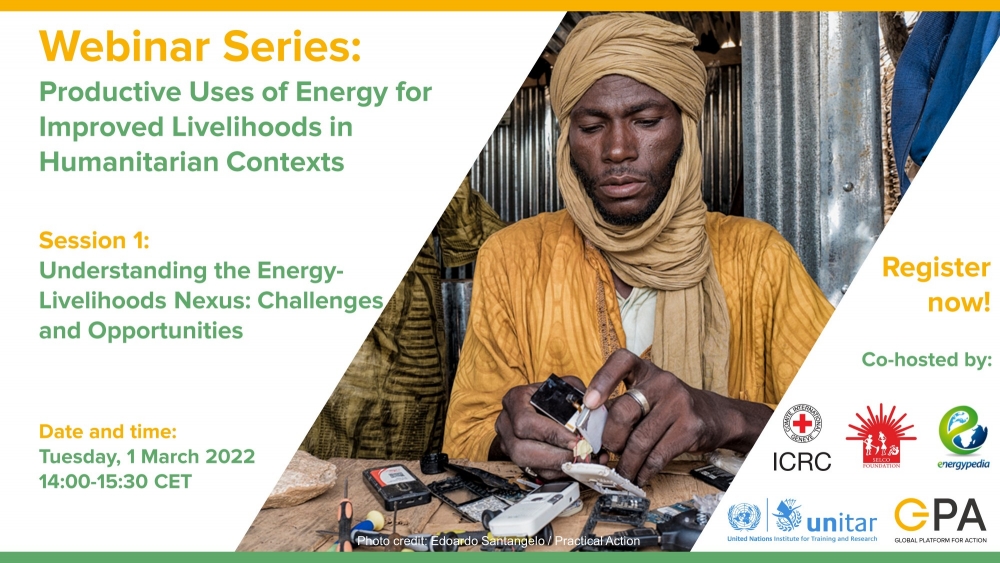 Last updated: 15/02/2022