Norway hosted a virtual lunch with selected Ambassadors to explore how to strengthen the role of host countries in the UNHCR Clean Energy Challenge. Taking a holistic look and ensuring that host communities are included and the engagement built on national plans and policies, were among the Ambassadors' recommendations.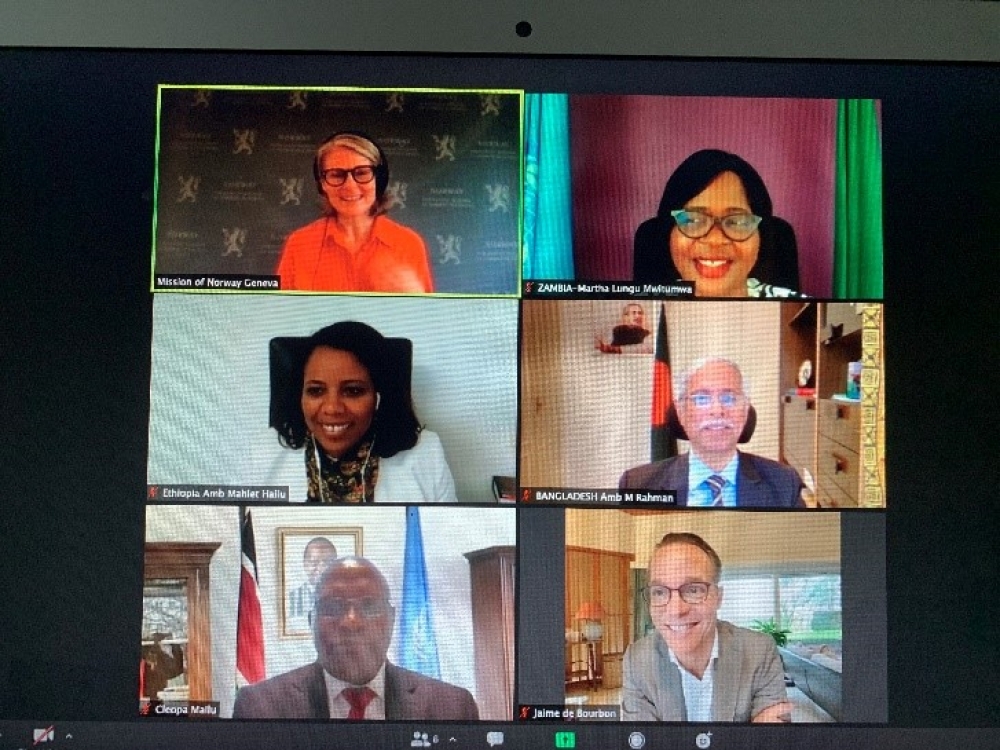 "Your countries are some of the largest or longest-standing refugee-hosting countries. It is key to understand your experiences in aligning the Clean Energy Challenge agenda with your own energy agendas, and make sure we build on this going forward", said Norway's Ambassador Tine Mørch Smith.
UNHCR Senior Adviser Jaime de Bourbon de Parme emphasized that there are now nine years left to the ambitious goal of bringing clean energy to displaced persons and host communities by 2030. He also mentioned that an average refugee stayed in a displacement context for 17-19 years which underscores the need for moving from ad-hoc programs to more long-term involvement.
"We have hosted refugees for many years and have taken a conscious decision to embrace renewable energy, asking each community to come up with an energy plan. The challenge is to link into country development plans and we need to increase advocacy", said Ambassador Cleopa Mailu from Kenya.
Ambassador Mahlet Hailu Guadey from Ethiopia pointed out that Ethiopia plans to have a climate-resilient economy by 2030 and has also invested in renewable energy in peace-keeping camps. "It is important to support national policies. But most importantly, we need to engage and collaborate with host communities", she said, adding "some of our efforts are bearing fruit, but there are issues in terms of financial capacity. We cannot solve this on our own."
Zambia is currently hosting more than 95,000 asylum seekers and refugees, in rural parts of the country. The need for fuel is causing deforestation which has a negative effect on the environment. An assessment has been done for connecting all refugee settlements to the national electricity grid, which will cost 3 mill USD. "The Clean Energy Challenge matches the government ambitions to ensure green energy to the remotest parts of the country in line with the SDG. But the challenges are enormous", said Ambassador Martha Lungu Mwitumwa. "The Zambian government can provide 2 mill USD, but we would like to request support from int comm to raise the remaining 1.5 mill to electrify all refugee settlements", he added.
In addition to funds and partnerships, it was pointed out that capacity building and technical support are needed. The Clean Energy Challenge plays an important role in keeping the discussion alive, the Ambassadors agreed. Going forward, they said, the topic needs to be kept on the agenda, pledges must be enhanced, and partners engaged to ensure resources. Good examples should also be showcased to rekindle interest and show gaps and draw other partners.
But perhaps most importantly, as pointed out by Ambassador Mustafizur Rahman from Bangladesh, it is necessary to take a holistic approach and ensure that sustainable energy is not addressed in isolation of larger programs. "Such programs must operate in full compliance with host govt and rural energy policies, bringing host communities in and be complimentary to climate change and other regional policies", he concluded.
This report is prepared by Lena Eskeland, Advisor of the Permanent Mission of Norway in Geneva, Switzerland.
Last updated: 19/02/2021