Date and Time: 11 November 2021; 17:00-17:30 (Glasgow Time)
Venue: SDG7 Pavilion
Virtual link to join: https://webapp.spotme.com/welcome/secaa21
Side event Summary
There are 82.4 million people around the world forcibly displaced out of their home according to UNHCR. People who flee conflict or disaster often find shelter in densely populated and ecologically fragile environments. Due to lack of available resources and affordability, they may resort to using surrounding natural resources to conduct their daily chores such as cooking, lighting, heating, etc. This situation might harm local biodiversity and instigate conflict with host communities. Besides, displaced people are often not included in international and/or national energy strategies and suffer severely due to lack of access to energy.
Access to sustainable energy protects the environment and allows for diverse livelihood activities, education opportunities, improved health, mobilize financing, and increased resilience. Reaching SDG 7 can help mitigate the negative effects of climate change and provide opportunities and tools for displaced and host communities to adapt to changing ecosystems. This is also an avenue for climate justice as displaced populations are mainly hosted in developing countries, which are disproportionally affected by climate change.
The event highlights the challenges and solutions for increased adoption of clean energy in displacement settings through partnerships and mobilizing innovative finance and ensure that no one is left behind.
SDG7 Thematic orientation
The event contributes to the SDG 7.1 areas with a specific focus on humanitarian sector. According to UNOCHA, around 238 million people around the world need humanitarian assistance, of which 82.4 million people are forcibly displaced out of their homes due to violence, disasters, and other reasons. They are one the most vulnerable populations on earth with little or no access to energy. This event intends to gather different stakeholders working in governments, development, humanitarian, and energy sectors to discuss the way forward in promoting sustainable energy solutions to displacement affected communities.
Target Audience
The event aims to engage different stakeholders working in development, humanitarian, peacebuilding, and energy sectors to achieve SDG7 in various scope. There will be a call to action for governments and other actors to consider displaced people in policies, strategies, and interventions of achieving universal energy access. As energy is at the center of many other cross-cutting areas of SDGs, anyone interested in the areas of SDG3, SDG13, SDG15, and SDG17 would find this event very helpful.
Objectives
The side event directly contributes to below priority areas of COP26. The specific objectives are mentioned as sub-points below.
Adapt to protect communities and natural habitats

The event aims to gather solutions and strategies for increased access to renewable and clean energy for displaced populations by accelerating reduction of fossil-fuel-based energy consumption. This objective is directly related to the adaptation to protect communities and natural habitats.

Mobilize finance

The event will showcase the potential to ensure displaced people and host communities have access to clean energy by fostering long-term sustainable investment in energy initiatives and developing energy market systems.

Work together to deliver

It will actively promote collective action plan to achieve SDG7 in displacement settings and will announce a call to action towards all actors to join this movement.
Expected Outcomes
Attract support for energy interventions in displacement settings through increased partnership and engagement.
Collaboration with government parties in countries with low energy access to ensure displaced people are included in their energy roadmaps
Increased donor/financier interest to invest in sustainable energy interventions for displaced and host communities.
Expanded network and established contacts with the organizations working in energy access for displaced communities.
Increased knowledge of the coordination mechanism for energy in displacement settings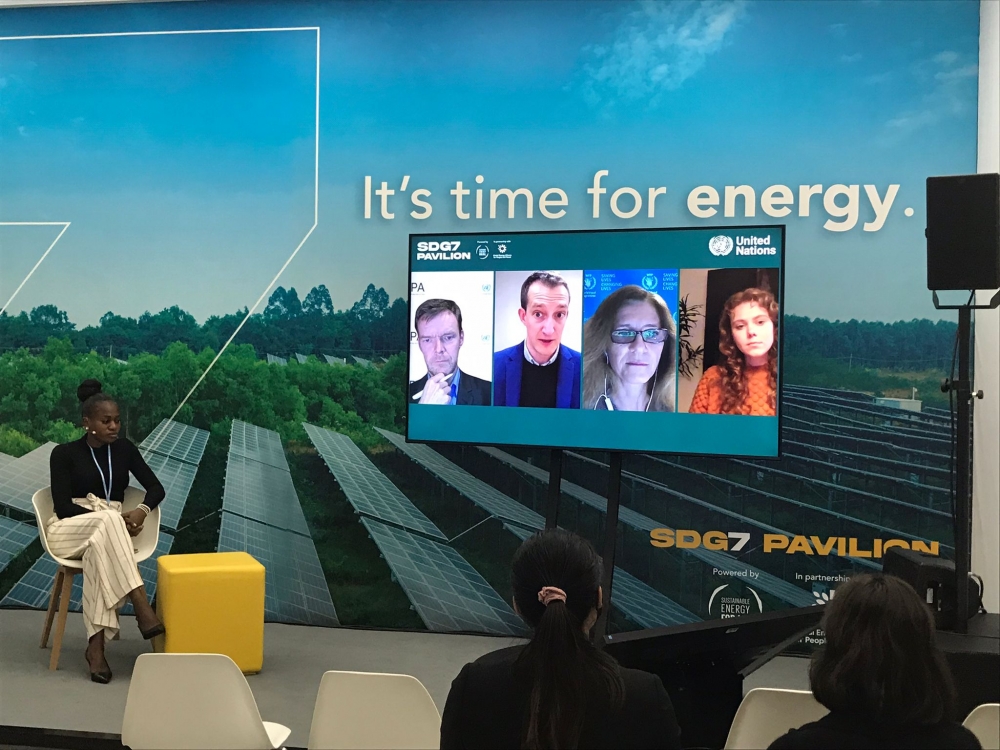 Last updated: 24/11/2021