The GPA hosted their winter data workshops on 25th November and December 2nd 2020. The topic of the workshops was 'Facilitating Data Sharing and Analysis on Sustainable Energy in Humanitarian Settings: Collaborating with Partners, Building Common Methods, and Supporting the Collection of Baseline Energy Data'. The aim of these workshops was to facilitate discussion between humanitarian, development and energy partners on data sharing and data analysis methods, in order to support the collection and production of baseline energy data for measuring global progress in sustainable energy access in humanitarian settings.
Building on the two previous data harmonisation workshops hosted by the GPA in July 2020, December workshops focused on showcasing different project data collection and analysis methods to support the targets of the Clean Energy Challenge and UN agency commitments on sustainable energy.
The GPA Coordination Unit based at UNITAR showcased a beta version of a data sharing platform, with information shared by 13 organisations so far, to understand the possibilities for collaborative data analysis and visualisation of the global picture on energy data. The proposed business intelligence tool offers the demonstration of a one stop shop that provides global information on energy aspects in humanitarian settings. The information and analysis proposed are:
Displaced population and energy access (baseline and progress tracking)
Humanitarian and energy project/activities
Country energy policies and market profile
Settlements ecosystem profile
Stakeholders mapping
The tool's objective is to provide stakeholders with information to spot gaps and opportunities, track progress, prioritize actions and connect with each other. Next steps proposed is to agree on a systematic way to aggregate and synthesize data for a global and multisectoral picture of the situation and opportunities.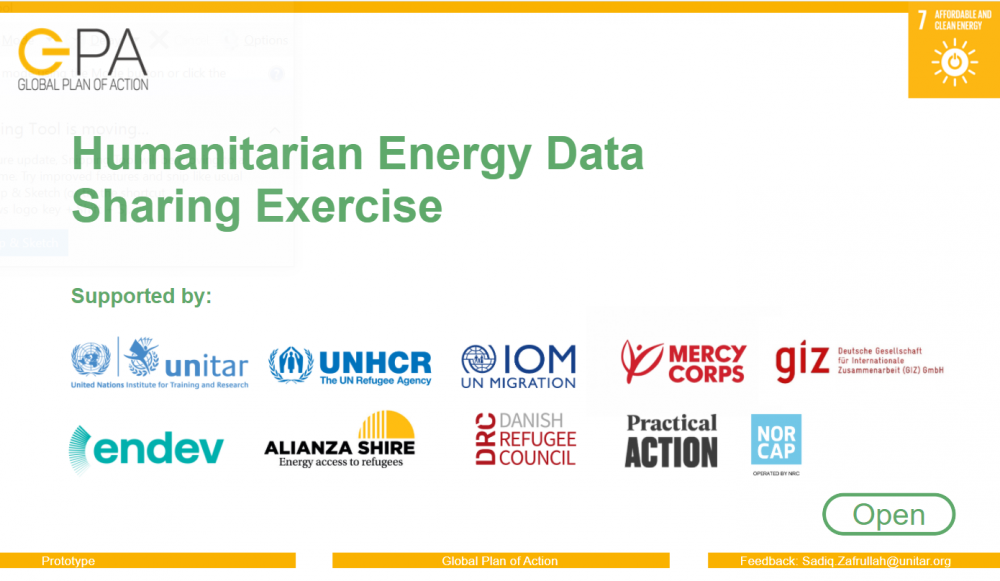 The events welcomed speakers from Chatham House and SE4ALL who spoke about the importance of global energy data for humanitarian organisations, and the GIZ EnDev programme and Mercycorps humanitarian energy team presented their approach to project data. UNHCR and IOM were able to share their new approaches and methodologies, which plan to collect baseline energy data from 2021 onwards. The UK Modern Energy Cooking Services (MECS) programme and GOGLA team members also participated in the events to bring expertise from the energy for development sector. As a community, the humanitarian energy sector is now becoming more aligned on data and evidence and the GPA Coordination Unit hopes to support this process over the coming years with solutions and expertise.

Further planning and development of the GPA data workstream will be conducted in January 2021 with partners. We would welcome any partners interested in this process to reach out to: Jonathan ARCHIMI (jonathan.archimi@unitar.org) and Sarah Rosenberg-Jansen (Sarah.Rosenberg-Jansen@qeh.ox.ac.uk). A further workshop report will be produced in early 2021 to showcase the various routes forward on this topic.

Please find the recordings for the events below.
Last updated: 11/12/2020