When: 3 November 2021, 13.30 (UK); 09.30 (EDT); 14.30 (CET); 16.30 (EAT)
Where: Action Room 2, Zone B, Scottish Event Campus - Hydro, Glasgow, Scotland & Virtual (hybrid event)
Organizers: UN Environment Programme (UNEP), Greening Government Initiative (GGI), Global Platform for Action on Sustainable Energy in Displacement Settings (GPA)
Virtual link to join: https://unfccc-cop26.streamworld.de/webcast/walking-the-talk-on-climate-action-how-national-an
Background Information
Across the globe public institutions, such as Governments, Municipalities and International Organisations are developing pathways to reduce their environmental and carbon footprint towards the shared goal of net-zero emissions. For this event, UNEP, the Greening Government Initiative (GGI), and the Global Platform for Action on Sustainable Energy in Displacement Settings (GPA) are joining forces to take stock, outline ambitions and present concrete proposals on how they could 'walk the talk' and can lead an energy transition globally.
The United Nations System is active in different countries around the world, both through its offices and through its programmes and initiatives. The UN System takes action in reducing its environmental and climate footprint via the 'Greening the Blue' initiative led by UNEP with the involvement of over 50 UN entities. Via the 2020-2030 UN Sustainability Strategy, UN Entities committed to align their own practices with the IPCC 1.5°C global warming scenario, which requires an absolute 45% GHG reduction by 2030. In 2019, the UN System emitted 2 million tonnes of carbon dioxide equivalent, 43% of which came from its facilities/infrastructure[1]. The UN system 2020 environmental inventory data will be revealed at the event.
Similarly, the newly launched Greening Government Initiative led by the USA and Canada is demonstrating leadership through a first-of-its-kind international community of practice that will enable countries to share lessons learned, promote innovation, and help meet Paris Agreement commitments. The Greening Government Initiative will serve as a platform for country representatives to share information and best practices, showcase success, and develop collaborative relationships with one another to accelerate national efforts to green government operations including climate resilience.
In the humanitarian space, the Global Platform for Action on Sustainable Energy in Displacement Settings (GPA) is a global initiative to promote actions that enable energy access in humanitarian settings by providing a collaborative agenda for energy, development, and humanitarian partners, and to deliver concrete actions of SDG 7. The GPA is steered by 16 international organizations including UN and non-UN organizations contributing to both development and the humanitarian sector. It contributes to the humanitarian sector's transition to renewable energy, which will increase efficiency, and reduce costs and carbon emissions. This ambition will be achievable through a collaborative approach among governments, private companies, development and humanitarian actors.
The work of UNEP, GGI and GPA show how collaboration can further facilitate the efforts to go green. Such global initiatives have potential to inspire other actors to raise the bar of their own internal sustainability standards and bring concrete benefits to nations, people and communities around the world.
Panellists:
Ligia Noronha, UN Assistant Secretary-General and Head of NY Office UNEP
Andrew Mayock, Federal Chief Sustainability Officer, White House Council on Environmental Quality, USA
Amy Pope, International Organisation for Migration Deputy Director General for Management and Reform
Thomas Fohgrub, UNITAR, Head of the Coordination Unit of the Global Platform for Action on Sustainable Energy in Displacement Settings
Moderator: Prince H. R. H. Jaime de Bourbon de Parme (Climate Envoy of the Netherlands)
Event Agenda (draft)
| | | |
| --- | --- | --- |
| Time | Theme | Speaker and key points |
| 13:30-13:40 | Opening and introduction of panellists | Moderator opens the session and introduces the panellists |
| 13:40-13:55 | Part 1: Overview and Challenges | Panellists provide overview of their work and the challenges they face in terms of greening |
| 13:55-14:10 | Part 2: Exploring Potential Solutions | Panellists explain how they will work towards net zero by 2050, how they will monitor this progress, and what upcoming opportunities they foresee to help them on this path |
| 14:10-14:30 | Part 3: Questions and Interventions | Moderator directs questions to panellists and three questions will be taken from audience |
| 14:30-14:35 | Part 4: Call to Action | Panellists share closing thoughts and their 'Call to Action' |
| 14:35-14:45 | Concluding remarks | Moderator gives concluding remarks and wraps up the event |
For more information on the event, contact at energy@unitar.org
For more information on the activities of the UN Greening the Blue initiative, please write: greeningtheblue@un.org
For more information on the activities of the Greening Government Initiative, visit the website.
For information on this and other events at COP26, visit the UNFCCC Global Climate Action website.
---
[1] Greening the Blue Report 2020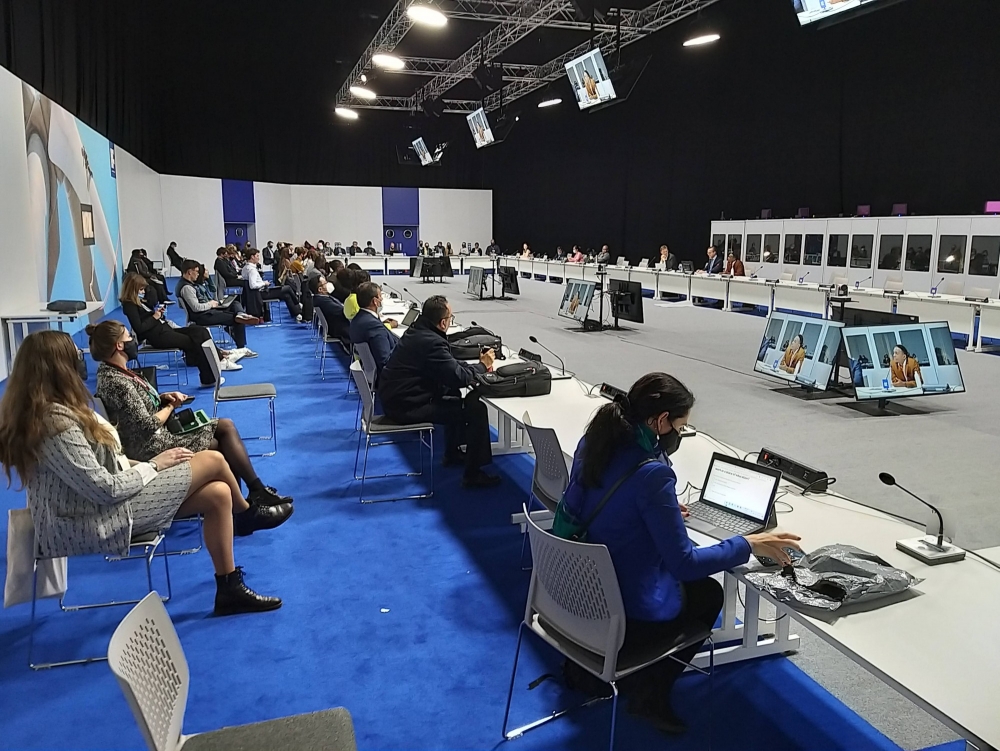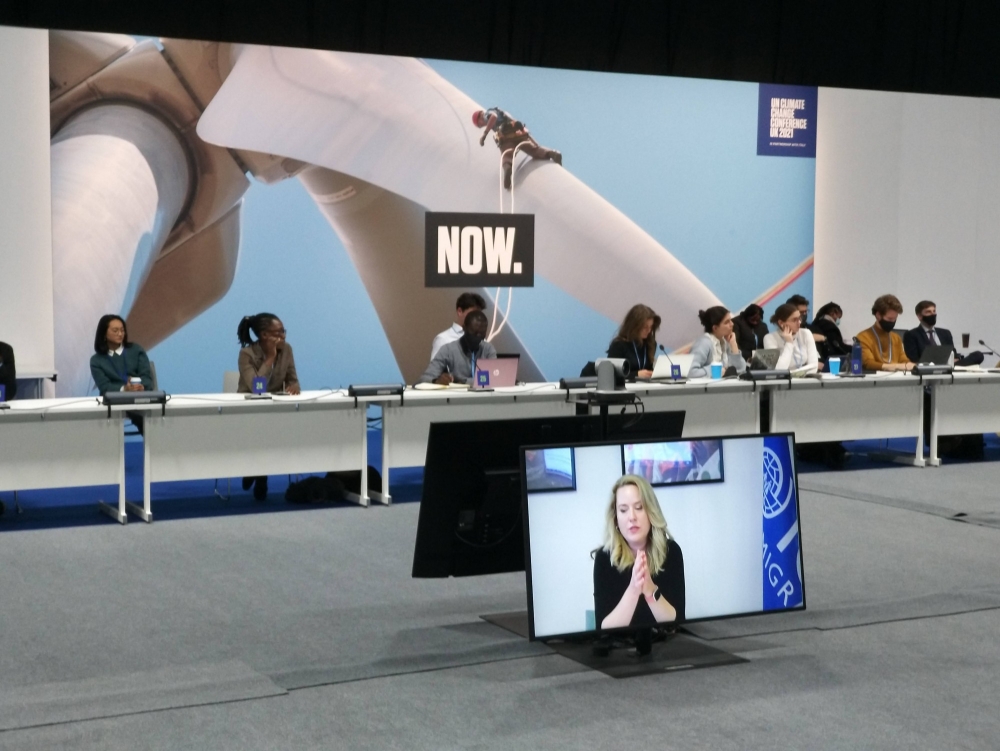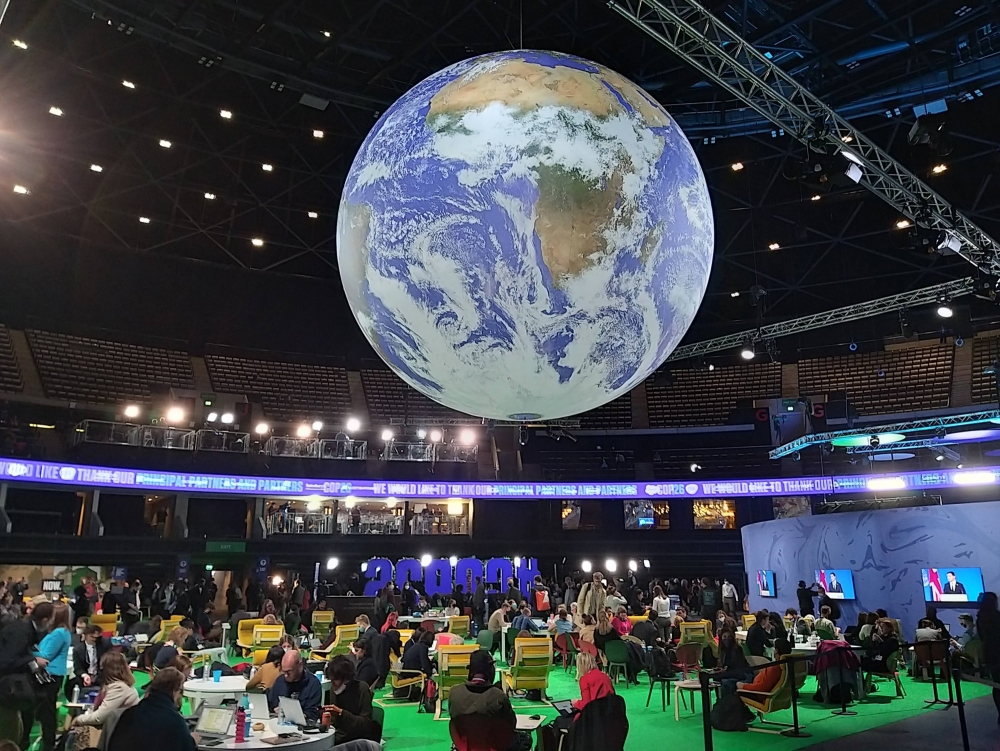 Last updated: 24/11/2021