The Green One United Nations House (GOUNH), inaugurated in May 2015, is a product of collective vision by the UN Country Team members in Vietnam (UNCT) to create shared, 'green' premises. This early commitment to 'deliver green', together with strong leadership, was instrumental in embedding sustainability principles in the design, construction, and operation of the building.
The blog presents recent development of the Green project implemented to improve GOUNH Energy Efficiency. The installation of an additional photovoltaic plant took place in 2020, increasing GOUNH original photovoltaic plant capacity in approximately 50% reaching a total of 131.9 KWp, which was sufficient to cover approximately 13% of the building energy needs.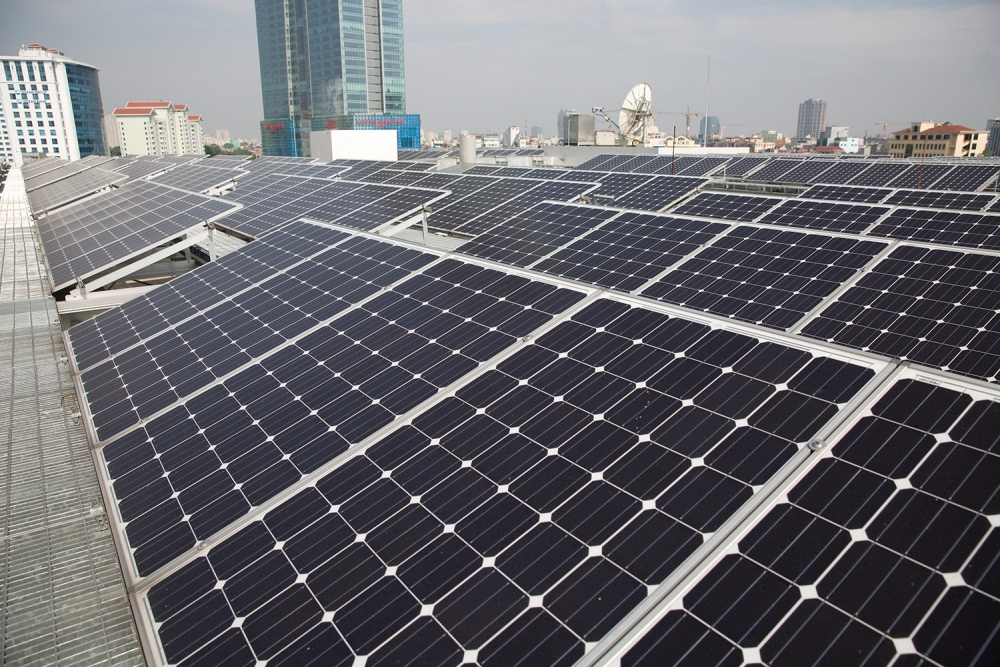 Moreover, negotiation with the local power company (EVN Ba Dinh) allowed for the connection of the GOUNH solar system to the national grid. For the first years the surplus were send back to grid but not registered as a credit to the UN. But as from 2020, with the increase of power generated and following extensive discussion with local Government on potential scenarios to register back this credit: from net metering (= surplus electricity deducted from the amount consumed and only pay for the difference) to net billing (= sells electricity back to local Power company) and taken into account local legislations, we managed to sign a net billing contract, thus generating the first "green revenue" of modest amount but fully aligned with GOUNH solid commitment to apply sustainable management practices (energy efficiency) and to implement cost-efficient measures.
Some of GOUNH lessons learnt during the Green journey:
Senior management buy-in, commitment and leadership to deliver a green development is crucial to "walk the talk" toward the SDGs. The success of green initiatives also depend in large part on the buy-in and support of the staff that work in the office (people's behavior).
A holistic view towards green buildings shall be applied from inception (design & construction) to its daily operations covering 3 key areas: a) efficient use of resources: energy, water and materials, b) environmentally friendly measures including waste reduction and recycling of materials, and c) occupant wellness covering among others indoor air quality, natural lighting and visual conform.
Centralized management of this agenda, in the case of Viet Nam by the GOUNH Common Back Office (CBO), facilitates application of green operations standards models, setting clear annual environmental management targets and allowing effective monitoring of results.
Local legislations to allow the UN sending the surplus energy back to the grid and to generate "green revenue" by selling it back to local Power company, varies from country to country. Lesson learned in Viet Nam demonstrates that, as this is a relatively new topic and field experiences are limited, achieving success may require years of trials, back and forth negotiations and some setbacks along the way. But with tenacity and persistency in trying different approaches this can be successfully achieved!
The Green One United Nations House (GOUNH) was inaugurated by the then UN Secretary-General, H.E. Ban Ki-moon and the Deputy Prime Minister and Minister of Foreign Affairs of Viet Nam, H.E. Pham Binh Minh and, 2 years after, was recognized as a leader of green buildings nationwide when it received the Platinum LOTUS Certification in May 2017 which is the highest national level of acknowledgement for non-residential green buildings by Viet Nam Green Building Council. In the same year obtained the ISO14001 environmental management system (EMS) certification valid for 4 years which was revalidated in 2020 extending its validity until 2023. Moreover, in the following year, September 2018, was recognized as a climate neutral building across the Asia-Pacific region by receiving the Leadership in Sustainable Design & Performance Award granted by the World Green Building Council (WGBC) Asia Pacific Region.
As of today, the GOUNH continues to apply a systematic approach towards environmental management and is constantly improving across a wide range of environmental metrics thus contributing to the environmental pillar of sustainability.
The blog is written by Maria Helena Mizuno Moreira, Manager, Business Operations & Common Back Office, Green One UN House, Ha Noi, Viet Nam
Last updated: 06/10/2021