On 16 May 2022, the Humanitarian Energy Conference (HEC) was held at the Kigali Marriott Hotel in Rwanda, convening around 200 people representing more than 100 organizations. It included stakeholders from governments, UN agencies, INGOs, private companies, academia, and other practitioners from the energy, development and humanitarian sectors. The speakers and attendees voiced the need for improving energy access for displaced people and their host communities around the world. The HEC provided the humanitarian energy community with an opportunity to reflect on progress and persisting challenges toward the overarching vision of achieving sustainable energy for all refugees and hosting communities, in which expert practitioners shared recent best practices on how to achieve that goal in action.
Damilola Ogunbiyi, Chief Executive Officer of Sustainable Energy for All and Co-Chair of UN-Energy opened the conference and highlighted the promise of leaving no one behind in achieving SDG7 by 2030. Ogunbiyi shared that though bridging the energy gap faced by displaced populations and their host communities will not be an easy undertaking, the gap can be closed if we, "invest in data, invest in technology, invest in people and also invest in the renewable solutions that we have at hand". "We need better policies" she stated, "that truly focus on a just and equitable transition that truly leaves no one behind".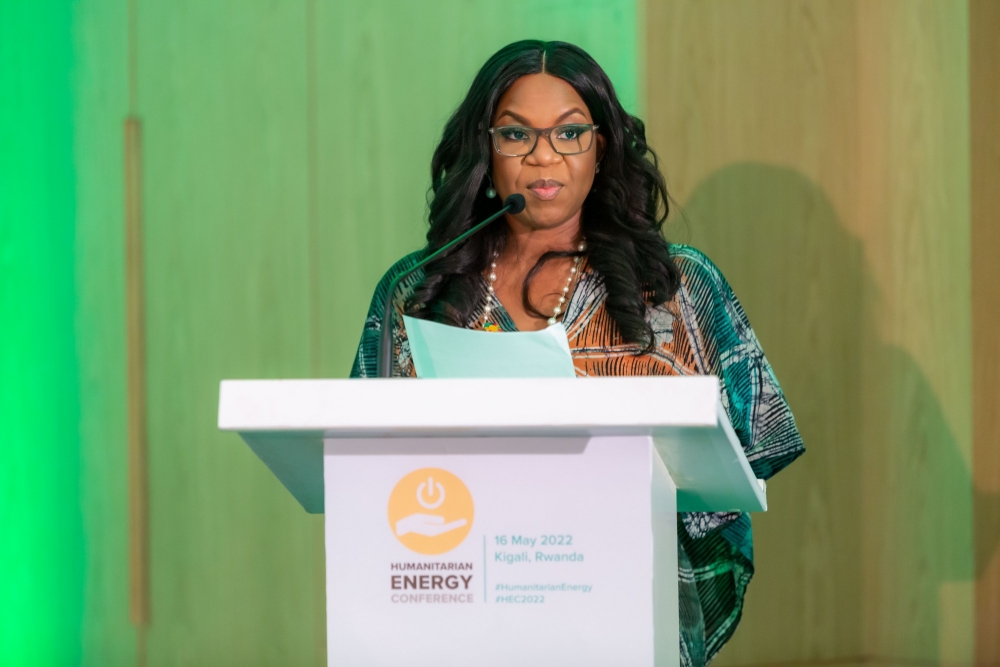 A high-level panel session was convened with the participation of Veneranda Ingabire, Head of MINEMA Special Projects Implementation Unit (SPIU) of the Government of Rwanda; Jennifer Morgan, State Secretary and Special Envoy for International Climate Action, Federal Foreign Office of Germany; Mark Carrato, Coordinator of Power Africa program at USAID; and Andrew Harper, Special Advisor to the High Commissioner for Climate Action at UNHCR. The panelists vouched for collaborative and immediate actions on ensuring renewable and sustainable energy access for refugees, IDPs, migrants, asylum seekers and other displaced people around the globe.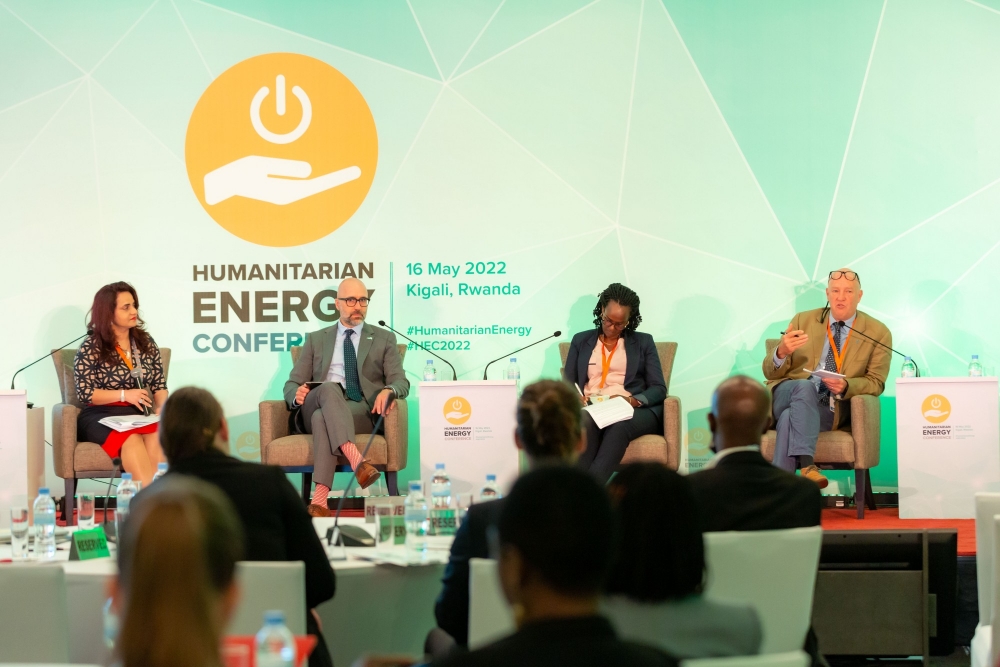 Jennifer Morgan, State Secretary and Special Envoy for International Climate Action, Federal Foreign Office of Germany, commented on the role of energy disrupting the dependency cycle that is often created and re-created in humanitarian response mechanisms. She shared that through community capacity building, the provision of new skills, and supporting the growth of local businesses in displacement contexts, the relationship between refugee and hosting communities can be mutually beneficial and contribute to wider development aims of the hosting country.
Andrew Harper, Special Advisor on Climate Action to the UN High Commissioner for Refugees reinforced the notion of energy signifying autonomy, stating that, "energy is about dignity, it is moving people from dependency to empowerment". Harper mentioned that energy transition is not merely about decarbonising humanitarian interventions, "it's about livelihood, it's about education, it's about health, it's about a future". Harper closed his statement by saying that these are the areas that we need to collectively be focused on more ambitiously.
Highlighting the commitment and pledges made at the Global Refugee Forum in 2019, Veneranda Ingabire, Head of MINEMA Special Projects Implementation Unit (SPIU), stated that the Government of Rwanda is committed to supporting refugees and host communities affected by environmental degradation in rehabilitating their environments, and welcomes more clean and renewable energy efforts for meeting access needs of hosting and refugee communities alike.
Mark Carrato, Coordinator of the Power Africa program at USAID, shed light on the unnecessary divide that has been drawn between global humanitarian assistance and development activities around energy access. Carrato announced that USAID aims to expand energy access by 60 million people by 2030 and that they "are making sure that this extends to the most vulnerable populations".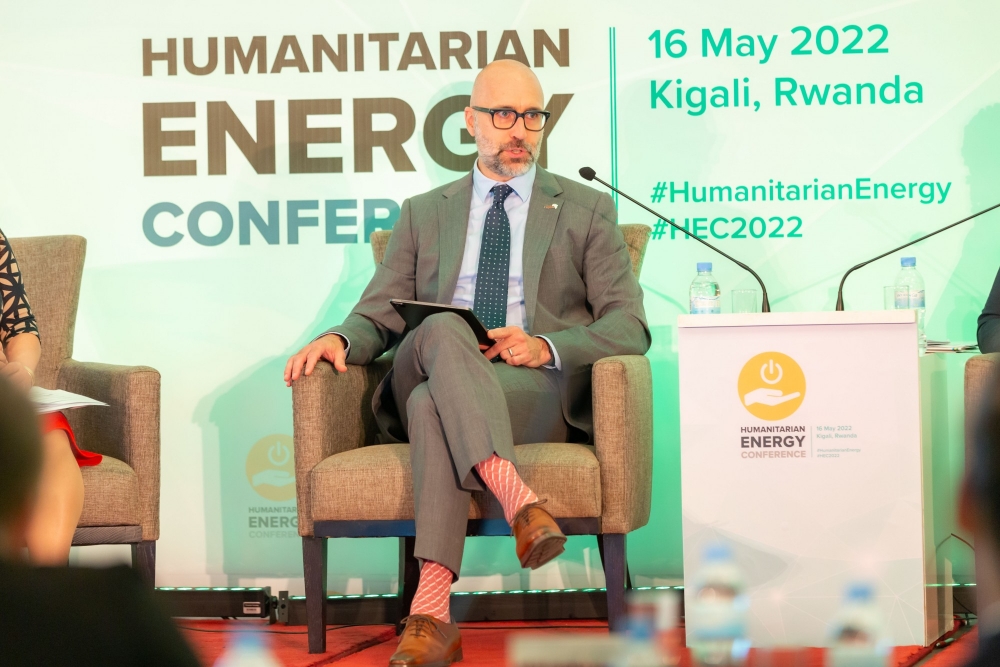 Throughout the day, six different deep dive sessions were held on clean cooking, electrification, inclusive policies, innovative finance, technical skills and data, and coordination and collaboration. The participants from different stakeholder communities discussed the sector's best practices to date, as well as the challenges and past failures of energy interventions. The HEC offered an opportunity for an extensive spectrum of actors to critically evaluate the common practices in humanitarian and development energy assistance and brainstorm how to most effectively overcome the barriers in order to achieve SDG7 in displacement settings by 2030.
The event closed with an expert panel discussion on the current state of the humanitarian energy sector. The session was co-led by refugee energy experts and advocates, and donor community members. Joelle Hangi, a research fellow at the University of Oxford and refugee based in Kenya, highlighted the necessary shift that needs to take place in the humanitarian energy space. Hangi stated that displaced communities and their hosts should be at the forefront of interventions and that their inclusion is imperative for any future energy transition. "Refugees, despite their status", she shared "have capacities". "They are able to support the sector". David Kinzuzi, a refugee entrepreneur and forced migration studies researcher further iterated that displaced people should be included in the decision-making spaces of the sector. "They (displaced people) are innovators". Kinzuzi who has worked in bringing entrepreneurship into displacement contexts emphasized that, "they (displaced people) have proximity to the problem. If we put them (at the forefront) and not see them only as beneficiaries, we are able to find meaningful and sustainable solutions".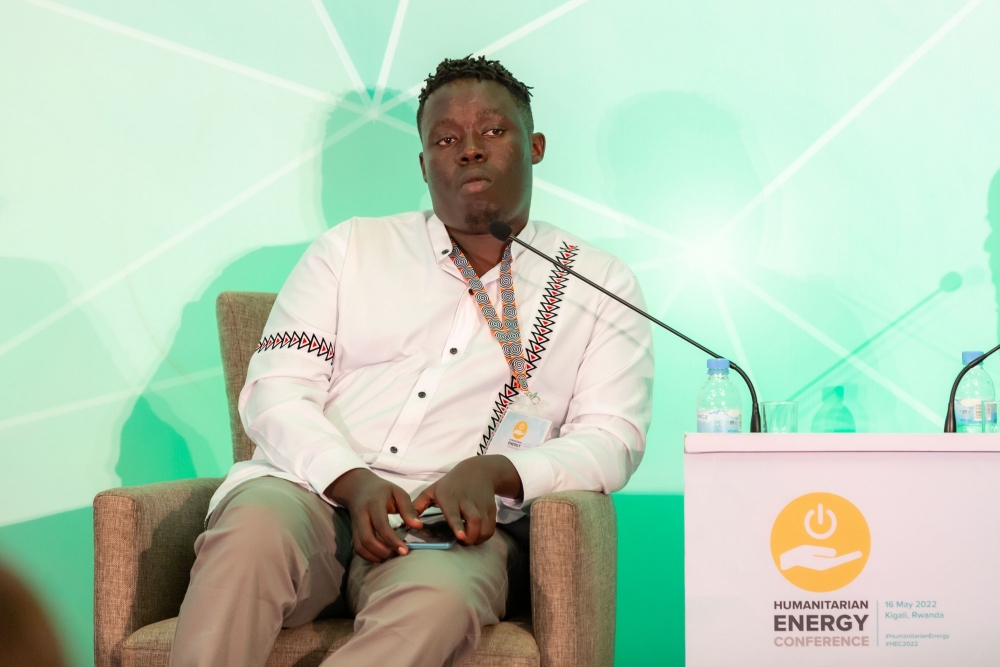 Highlighting the low purchasing power of the refugees in camp settings, Edison Sebutozi Munyakarambi, Refugee President of Kigeme Refugee Camp in Rwanda, invited the humanitarian and donor communities to invest in clean cooking solutions as cookstoves and cooking fuel are not affordable in the community. He also highlighted that investment in local infrastructure and job creation are required within the refugee and host communities.
A response on the topic of energy access and job creation from Harriet Lamb, CEO of Ashden, was that for, "every job created in distributed energy, five more jobs are created by enabling other people in the community to run their businesses". She emphasized that there is a need for a shift in the whole ecosystem for a long-term sustainable solutions for improving energy access to displaced people and the host communities
While reflecting on the global targets on SDG7 and inclusion of displaced populations in energy interventions, Rob MacIver, Infrastructure Adviser of FCDO at the Government of the United Kingdom mentioned that "any clean energy transition should reduce vulnerability and increase choice".
At the conference, the GPA Coordination Unit launched the first 'State of the Humanitarian Energy Sector Report', on how to raise ambitions to ensure that refugees, migrants, asylum seekers, and internally displaced people are not left behind in the clean energy transition. The research analysis, case studies development and interviews with experts within the sector revealed that the vast majority of the world's displaced people do not have access to affordable, reliable, sustainable and modern sources of energy: an estimated 94% of displaced people in camps do not have access to electricity and 81% rely on firewood and charcoal for cooking.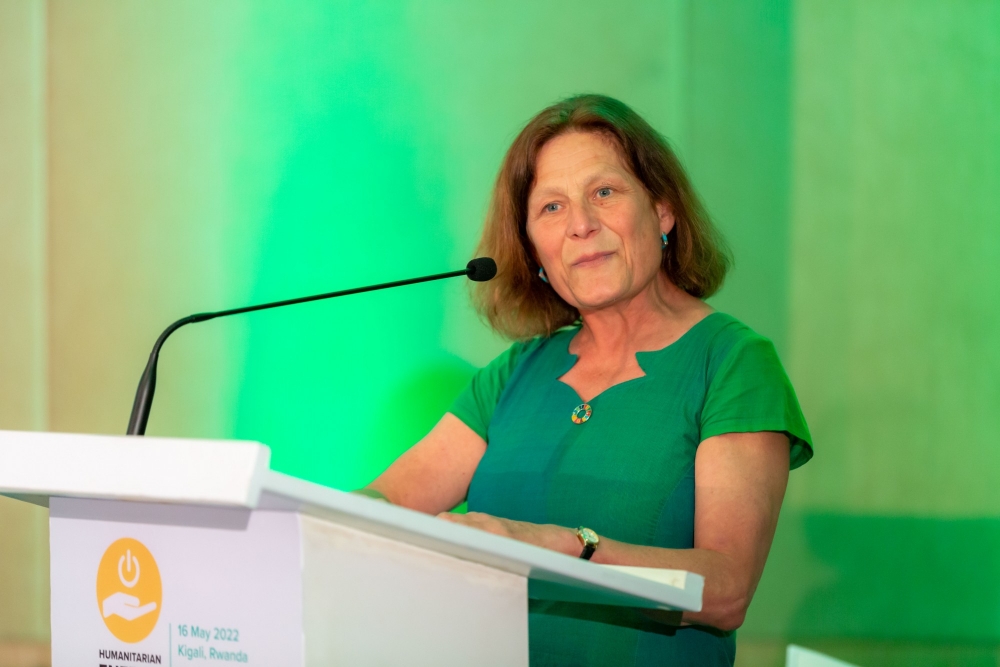 The HEC was concluded with the announcement of the shortlists of the Ashden Awards and the closing remarks of Mr. Thomas Kurz, Ambassador of Germany to Rwanda, by reiterating Germany's holistic and multistakeholder approach for contributing to clean energy access in displacement contexts.
The HEC acted as a convenor around the GPA's mission of ensuring that displaced persons, host communities, and associated humanitarian response mechanisms have access to affordable, reliable, sustainable, and modern energy services by 2030. The GPA is dedicated to delivering collective change on energy in displacement settings by providing supporting services to mainstream sustainable, affordable, and reliable energy access for crisis affected communities and those that serve them. Moving forward, the GPA will continue to serve as a platform for all stakeholders to exchange, collaborate and take action on how to improve energy access in displacement contexts in the coming years. All stakeholders are invited to contact the GPA Coordination Unit at energy@unitar.org for ways to collaborate and get involved with the network.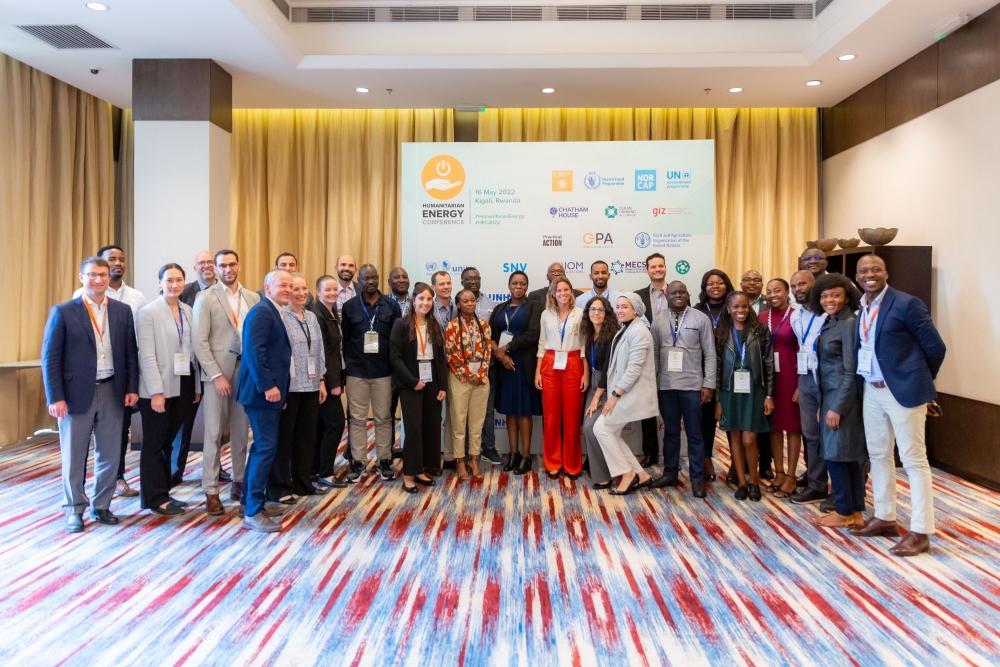 ---
The HEC was co-hosted by the Coordination Unit of the Global Platform for Action on Sustainable Energy in Displacement Settings (GPA), based at the United Nations Institute of Training and Research (UNITAR), Practical Action, and NORCAP with generous support from the German Federal Foreign Office, Norwegian Ministry of Foreign Affairs and the Norwegian Agency for Development Cooperation (Norad).
Cohosted by

Sponsored by

Last updated: 23/06/2022