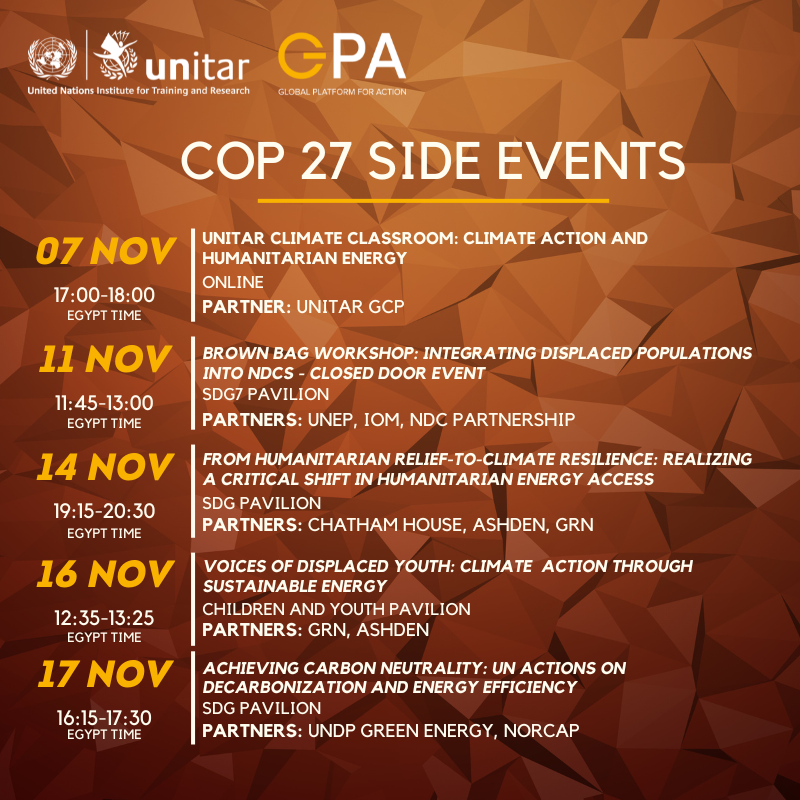 Date: 07 Nov; 16:00 – 17:00 Egypt time
Partners: UNITAR GCP
Venue: Online
Registration: https://uncclearn-org.zoom.us/meeting/register/tZArduCoqTguE9yorJ_XDcGooqaXneSP_9un
Description
Climate change affects everyone, including those in displaced settings that do not have access to energy. Therefore, consideration must be given to delivering energy, specifically clean energy, in a humanitarian setting. Life without modern energy is radically constrained and displaced people have very limited quality of life without access to electricity and clean cooking sources. Therefore, sustainable energy access in humanitarian settings is now more critical than ever, to support the mitigation of the climate crisis and enable recovery from the long-term impacts of the COVID-19 crisis.
This class will provide participants with the 'need to know' of the humanitarian energy sector, stemming from the key challenges, opportunities, and ways these issues are being addressed. The class will also provide experiences and insights from representatives of displaced communities.
---
Date: 11 Nov 2022; 12:15-13:30 Egypt time
Partners: UNEP, IOM, NDC Partnership
Pavilion: SDG7 Pavilion
Description
The session will be a closed peer-to-peer exchange with government stakeholders, UN experts, and leading NDC organizations. These stakeholders will discuss including displaced people and energy policy targets in the NDCs and combining climate action with humanitarian settings and disaster risk.
This session brings relevant stakeholders to discuss the main issues, needs and opportunities to include displaced populations in future NDCs and energy policies.
---
Date: 14 November 2022; 12:35 - 13:25 Egypt time
Partners: Chatham House, Ashden, GRN
Pavilion: SDG Pavilion
Registration link: https://unitar.zoom.us/webinar/register/WN_h5nREBC9R2-vtVB7xejS5Q
Description
This session will invite participants to change the humanitarian energy access space by providing expert insights on inclusive data, systemic change in the UN, and inclusive investments.
It will mainly focus on the context of displacement communities; how to ensure they are considered and prioritized, and how the inclusion of affected communities in humanitarian energy activities highlights the 'leave-no-one-behind' principles.
---
Date: 16 Nov 2022; 12:35-13:25 Egypt time
Partners: GRN, Ashden
Pavilion: Children and Youth Pavilion
Description
This interactive session will focus on energy access in displacement settings and climate change from a youth-centred perspective. It will look at what climate change means for displaced communities and how energy can help with mitigation and adaptation.
The session will begin with a video of a few displaced people describing how climate change affects them and what energy initiatives or solutions they want UN member states to push for. After the video, there will be two 5-minute Ted Talk-style presentations with audience discussion.
---
Date: 17 Nov; 16:15 – 17:30 Egypt time
Partners: UNDP Green Energy, NORCAP
Pavilion: SDG Pavilion
Registration link: https://unitar.zoom.us/webinar/register/WN_fbPxN4QqTWqfifK5R9eHMw
Description
The session will bring together major UN entities and their partners to discuss fossil fuel dependency and energy efficiency. The discussions will also highlight how private sector investments in UN energy infrastructure are needed to achieve sector goals.
During this side event, the 20m USD Multi-Partner Trust Fund will be launched to decarbonize energy infrastructure in humanitarian contexts and other fragile settings by installing energy-efficient appliances and renewable energy systems using innovative PPP models.
---
The activities were funded with UK aid from the UK government via the Transforming Energy Access programme.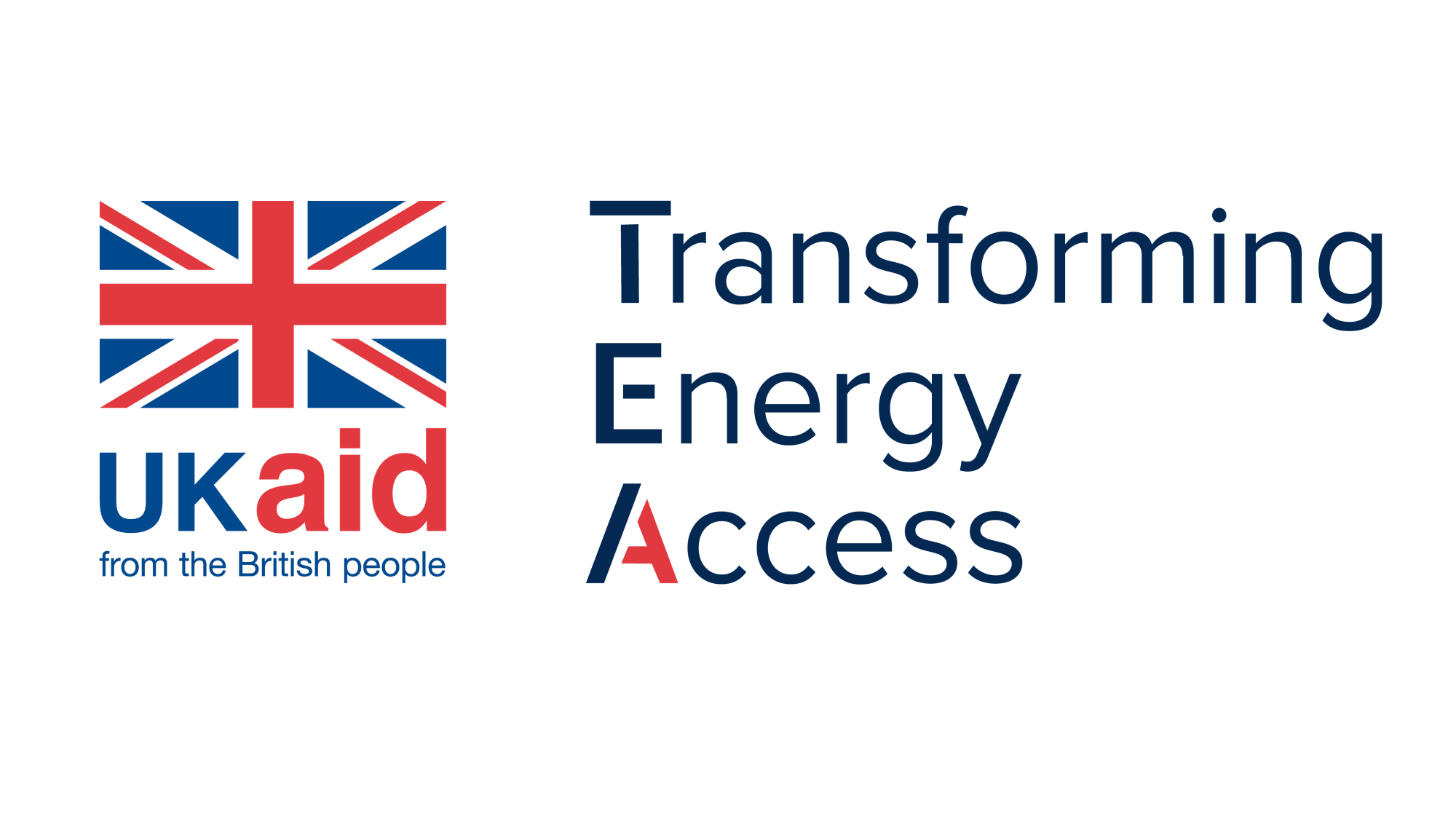 Last updated: 10/07/2023