Clean and safe energy in refugee settings: Moving forward on the Clean Energy Challenge
High-level event on private sector and government support to refugees and host communities.
With opening address by UN High Commissioner for Refugees, Filippo Grandi.
Thursday 3 June 2021
16:00 - 17:45 Geneva
17.00 – 18.45 Addis Ababa
10:00 – 11:45 New York
Join us for an insightful conversation to discuss the many ways governments, businesses and aid organizations can support clean energy solutions for refugees and host communities today and in a post-COVID19 world.
Referring to key energy pledges made in the context of the Global Refugee Forum in 2019, the event will spotlight how clean energy projects are already transforming the lives of refugees and local populations, and present opportunities for further support. Together we will launch a Call to Action to anchor clean energy for refugees to the global climate agenda and contribute to the High-level Dialogue on Energy in 2021.
The recorded video of the event is available below.
A key objective of the Challenge is to increase collective action and mobilise support toward the vision that "All refugee settlements and nearby host communities will have access to affordable, reliable, sustainable and modern energy by 2030.". The Clean Energy Challenge Petition is a document outlining key recommendations for how different stakeholders can commit support to improving clean energy access for displaced people and host communities, aligned with the Sustainable Development Goal 7, Global Compact for Refugees and the Global Platform for Action on Humanitarian Energy (GPA). By signing up to the petition, stakeholders commit current or future to one or multiple of the outlined recommendations.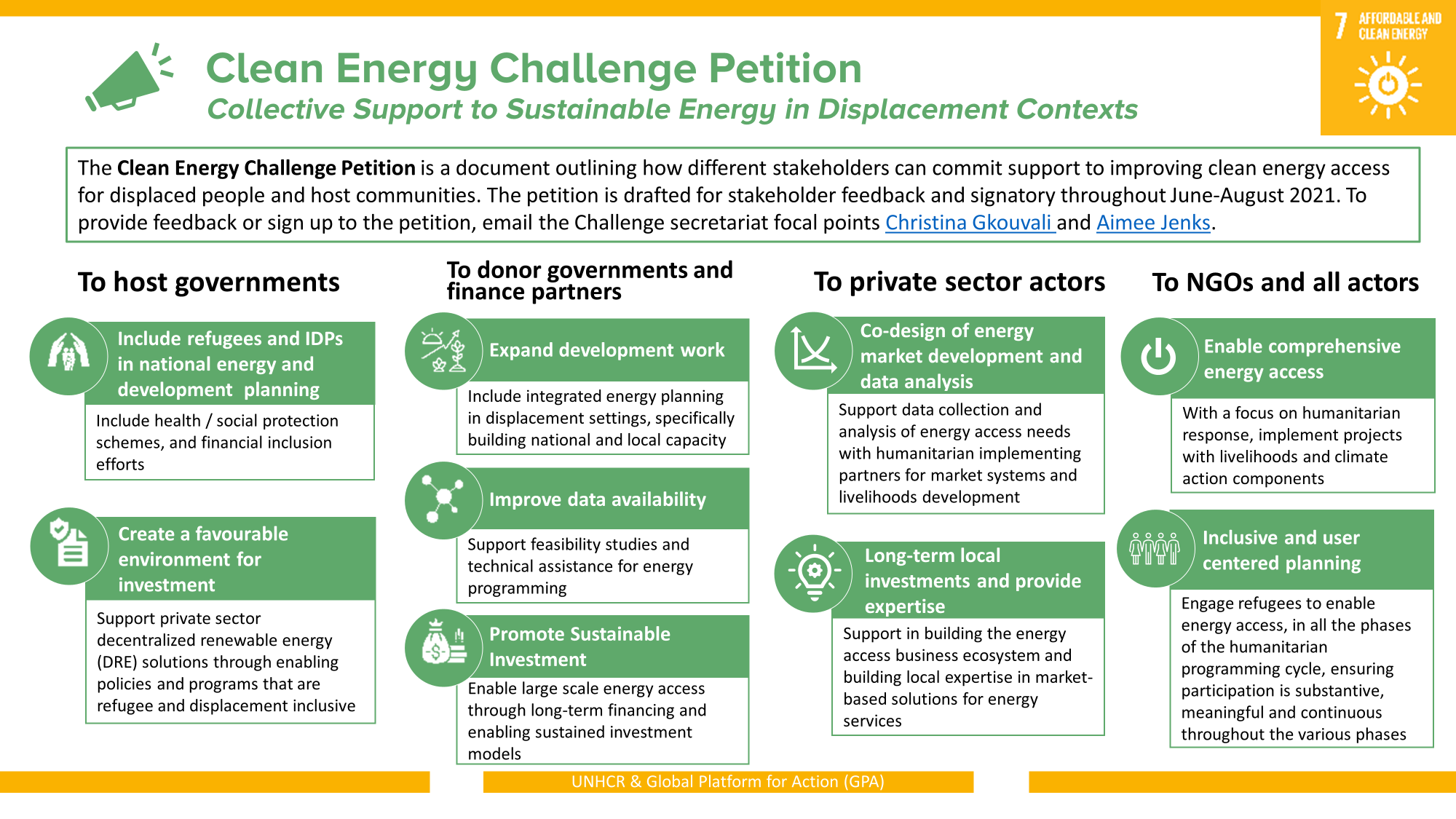 The petition is drafted for stakeholder feedback and signatory throughout June to August 2021. The petition will be used as an input to the High-Level Dialogue on Energy and the Global Refugee Forum events to highlight good practices and collective commitment to sustainable energy in displacement contexts. To provide feedback or sign up to the petition, email the Challenge secretariat focal points Christina Gkouvali and Aimee Jenks.
Part 1: The Clean Energy Challenge: Setting the scene

Welcome

Andrew Harper – master of ceremonies, UNHCR Special Advisor on Climate Action

Opening remarks

Filippo Grandi – United Nations High Commissioner for Refugees

Humanitarian / Development
Nexus and High-Level Dialogue
on Energy

Haoliang Xu – UN Assistant Secretary-General and UNDP Assistant Administrator and Director of Bureau for Policy and Programme Support

Part 2: Panel discussion: The current state of play on energy in displacement

Facilitated by Femi Oke,
Co-founder of Moderate The Panel

Joelle Hangi, Co-Founder and Director of Refugee Artist and Authors
Robert Kasande, Permanent Secretary, Ministry of Energy and Mineral Development, Uganda
Hans Das, Director for Emergency Management - Directorate-General for European Civil Protection and Humanitarian Aid Operations of the European Commission
Mansoor Hamayun, Co-founder and Chief Executive Officer of Bboxx

Part 3: Panel discussion: Best practice examples and ready-to-go projects

Facilitated by Femi Oke,
Co-founder of Moderate The Panel

Thomas Fohgrub, Head of Coordination Unit, Global Platform for Action on Sustainable Energy in Displacement Settings
and co-convener of the Clean Energy Challenge
Cecilia Ragazzi, Access to Energy Lead and Senior Advisor, Mercy Corps
Alexander Haack, Global Team Lead for Energizing Development, GIZ
Irene Sun, Senior Innovative Finance Officer, UNHCR

Part 4: Interventions from the floor

Support from Governments
and Private Sector

HE Mr. Zenebe Kebede KORCHO, Ambassador, Mission of the Federal Democratic Republic of Ethiopia to the United Nations
Mr. Hans Olav IBREKK, Special Representative for Energy, Climate and Food Security, Norwegian Ministry of Foreign Affairs
Mr. Benjamin MOELING, Chargé d'Affaires, U.S. Mission to the United Nations and Other International Organizations
Mr. Gregor SCHOTTEN, Counsellor, Political Department, Permanent Mission of Germany
Mrs. Veronica NORDLUND, First Secretary, Humanitarian Affairs, Swedish Mission Geneva
Mr. Xavier DENOLY, Senior Vice President, Sustainable Development, Schneider Electric
Mrs. Annemieke de JONG, Head of Portfolio Refugee Livelihoods, IKEA Foundation

Closing remarks

Andrew Harper – UNHCR Special Advisor on Climate Action
For any questions please contact the Clean Energy Challenge Secretariat by emailing Aimee Jenks (aimee.jenks@unitar.org) and Christina Gkouvali (gkouvali@unhcr.org).
Short biographies of the speakers are following:

_____________________________________________________________________________________________________
Filippo Grandi, United Nations High Commissioner for Refugees

Elected by the General Assembly, Filippo Grandi became the 11th UN High Commissioner for Refugees on 1 January 2016. He leads UNHCR, which operates in 135 countries providing protection and assistance to more than 80 million refugees, returnees, internally displaced people, and stateless persons. Grandi, an Italian national, has been engaged in international cooperation for 35 years and holds degrees in modern history and philosophy, as well as an honorary doctorate from the University of Coventry.

_____________________________________________________________________________________________________

Haoliang Xu, UNDP Assistant Administrator and Director of Bureau for Policy and Programme Support

Haoliang Xu was appointed UN Assistant Secretary-General and UNDP Assistant Administrator and Director for the Bureau for Policy and Programme Support by the United Nations Secretary-General in July 2019.

Previously, Mr. Xu was UN Assistant Secretary-General and UNDP Assistant Administrator and Regional Director for Asia and the Pacific since September 2013.

Prior to this, he served as Deputy Regional Director of the Regional Bureau for Europe and the Commonwealth of Independent States in New York since 2010; UN Resident Coordinator and UNDP Resident Representative in Kazakhstan (2007-2010); Country Director in Pakistan (2005-2007); Deputy Resident Representative for Programme, Pakistan (2004-2005); Country Manager and Senior Deputy Resident Representative, UNDP Timor-Leste (2002-2004); Deputy Resident Representative, UNDP Iran (2000-2002); Programme Manager, Regional Bureau for Asia and the Pacific, New York (1997-1999); Programme Officer/Junior Professional Officer, UNDP Kazakhstan (1997-1999).

_____________________________________________________________________________________________________

Hans Das, Director for Emergency Management - Directorate-General for European Civil Protection and Humanitarian Aid Operations of the European Commission

Bio is not available yet.

_____________________________________________________________________________________________________

Robert Kasande, Permanent Secretary, Ministry of Energy and Mineral Development, Uganda

Robert Kasande is currently the Permanent Secretary of the Ministry of Energy and Mineral Development in Uganda, a ministry where he has worked for the last 33 years.

As the Chief Executive Officer in the Ministry, he oversees the government policy and regulatory functions aimed at the development and utilisation of; energy, minerals, and oil and gas resources. He has served as the Board Chairperson for the Rural Electrification Agency which facilitates the Government of Uganda's goal of increasing rural electrification in the country.

Under his leadership, the Ministry has developed;

The new Energy Policy of Uganda and amongst the strategies proposed therein is the provision of sustainable and affordable energy to refugees and host communities, and
The Sustainable Energy Response Plan for Refugees and Host Communities in Uganda. His Ministry will be responsible for the overall coordination of this plan working with humanitarian and development partners.

_____________________________________________________________________________________________________

Joelle Hangi, Co-founder of Refugee Artist and Authors

Joelle Hangi is a Congolese refugee from Kakuma Camp, Kenya and the co-founder of Refugee Artist and Authors. She is a passionate champion of SDG7.

Having studied in the camp, which is home to some 185,000 refugees in a remote desert northwest of Kenya, she is keenly aware of the value of sustainable, reliable energy and good infrastructure.

Joelle is also a Social Media Marketing Consultant at StepUp.One, a London-based organization that is re-skilling refugees and connecting them to global opportunities that pay. She has obtained distance-learning diplomas from Regis University, University of Geneva and recently completed her bachelor's degree in business communication with Southern New Hampshire University. Collecting and sharing refugees' stories is her passion and her career.
_____________________________________________________________________________________________________

Thomas Fohgrub, Head of the Global Platform for Action (GPA), UNITAR

Thomas is the Head of the Coordination Unit for the Global Platform for Action (GPA) on Sustainable Energy in Displacement Settings at the UNITAR. The GPA is the central global platform for actions to reach SDG 7 in displacement settings. Thomas is working on the goal to provide every displaced person access to sustainable energy by 2030 since 2017. Before that, Thomas served in various capacities for the German Government. He holds an MA in European Studies and a PhD in Management Consulting.

_____________________________________________________________________________________________________

Mansoor Hamayun, CEO of Bboxx

Mansoor is the Chief Executive Officer and Co-Founder of Bboxx.

Bboxx is a next generation utility, transforming lives and unlocking potential through the provision of affordable, reliable, and clean energy. As CEO, Mansoor leads Bboxx in all aspects of its business – from its head office and engineering lab in London to its factory in China, to distribution from its local shops in 12 markets. Mansoor is an expert in energy strategy development and particularly innovative financing solutions for the off-grid energy industry, chiefly for debt and subsidy solutions.

_____________________________________________________________________________________________________

Alexander Haack, Team Leader at the Energising Development Program (EnDev)

Alexander Haack is the Team Leader at the Energising Development Program. In his current position, Alexander Haack is coordinating EnDev's engagement in over 20 countries and is heading the development of new thematic intervention areas.

Prior to his current position, Alexander Haack has worked for the GIZ in Turkey as Cluster coordinator for Energy and Climate.

Before that, he advised the Federal German Ministry for Economic Cooperation and Development on global sustainable Energy Policies.

He was part of the founding team of the International Renewable Energy Agency in Abu Dhabi and has a background in the private sector. Alexander Haack holds a Diploma in international relations and law.
_____________________________________________________________________________________________________

Cecilia Ragazzi, Access to Energy Lead, Mercy Corps

Cecilia is the Access to Energy Lead at Mercy Corps and provides technical assistance on community energy services, private sector partnerships and innovative financing solutions to teams working on Energy Access across Mercy Corps. Prior to joining her current role at Mercy Corps, she project managed a multi-country EU-funded program that focused on women's economic development through renewable energy - reaching 4,650 small-medium enterprises and 21,000 women.

Having lived and worked in 20 countries, Cecilia has more than 12-years experience in humanitarian and development contexts, with a focus on social inclusion (energy, financial services, and protection). Cecilia is passionate about the catalytic potential that access to energy offers in terms of increased well-being and she believes in the scaling power of partnerships with the private sector to offer quality products and services.

_____________________________________________________________________________________________________

Irene Sun, Senior Innovative Finance Officer, UNHCR

Irene Sun is the Senior Innovative Finance Officer at UNHCR. She leads the team that supports the development of innovative financing mechanisms (i.e., financing models beyond traditional pure grant financing) to better support refugees and host communities. Prior to joining UNHCR, she was an Associate Partner at McKinsey & Company and a Fellow at the Center for Global Development and the Harvard Humanitarian Initiative. She is also the author of The Next Factory of the World, a book about economic development in Africa that was named one of the Financial Times's Best Business Books of 2017.

_____________________________________________________________________________________________________

Facilitator of the panel sessions:
Femi Oke, Co-Founder Moderate The Panel

Femi Oke is an award-winning international journalist, broadcaster, professional moderator and co-founder of the diverse moderators bureau "Moderate The Panel." Based in Washington, D.C., she hosts the interactive current affairs show "The Stream" for Al Jazeera English; is a correspondent for the Al Jazeera documentary series "Fault Lines"; and the social media contributor for NPR's midday news program "Here and Now."

Femi's reporting has been recognised by the Economic Community of West African States (ECOWAS), the African Communications Agency and InterAction. Since the 1980s, she has worked for BBC television and radio, Sky TV, all the U.K. terrestrial television networks, CNN , Al Jazeera and U.S. public radio. As a professional moderator Femi has presided over world class events in-person including European Development Days, NBA Africa Celebratory Luncheon for the U.S. National Basketball Association, and the historic Barbershop Conference at the United Nations Headquarters. Since April 2020 Femi has moderated international virtual events from her home studio in Washington.

_____________________________________________________________________________________________________

Master of Ceremonies:
Andrew Harper, Special Advisor on Climate Action to the United Nations High Commissioner for Refugees (UNHCR)

Andrew Harper is the Special Advisor on Climate Action to the United Nations High Commissioner for Refugees (UNHCR) in Geneva. He is responsible for providing strategic guidance, oversight and expertise to shape UNHCR's response to the climate emergency. Prior to his current tasks, he was the Director of the Division of Programme Support & Management (DPSM), where he oversaw programme policy, planning and management, as well as technical support to field operations.

Andrew has led the Innovation Service in UNHCR and was responsible for leading and coordinating the international response to the Syrian Crisis in Jordan. Some of the main achievements included responding to, at the time, the largest refugee crisis in the world, the establishment of the Zaatari and Azraq refugee camps, introducing biometric registration and linking that to the world's largest biometric based refugee cash assistance programme.

Andrew also served as the Head of Desk for UNHCR, covering the Iraq Situation, as well as the Emergency Focal Point for the Middle East and North Africa region for the Libyan Crisis.

He has previously worked notably for the Australian Embassy in Turkey and UNOCHA, and in various field locations with UNHCR, including Central and Southeast Asia, the Western Balkans, Islamic Republic of Iran and Ukraine.

_____________________________________________________________________________________________________
Last updated: 16/06/2021