The Humanitarian Energy (HE) Exchange Network is the central platform for coordination and collaboration between humanitarian and development agencies working on sustainable energy projects or initiatives at the country or regional level. The HEEN, integrating the existing Safe Access to Fuel and Energy (SAFE) Humanitarian Working Group into the GPA structure, was launched during the GPA briefing session on humanitarian energy at Humanitarian Networks and Partnership Weeks on 28th April 2021.
The HEEN builds upon the SAFE Working Group with its focus on the practical and operational level humanitarian energy programs in countries that lack an existing coordination mechanism among the humanitarian and development agencies. In 2020, the GPA and SAFE Working Group structures agreed to join forces to strengthen the link between global and field levels and improve knowledge and expertise sharing among practitioners. The Humanitarian Energy Exchange Network meets monthly, in which the practitioners exchange knowledge and expertise, synthesise lessons learned from experiences, express the need for supports from the network, and explore opportunities for collaboration to develop sustainable energy programmes.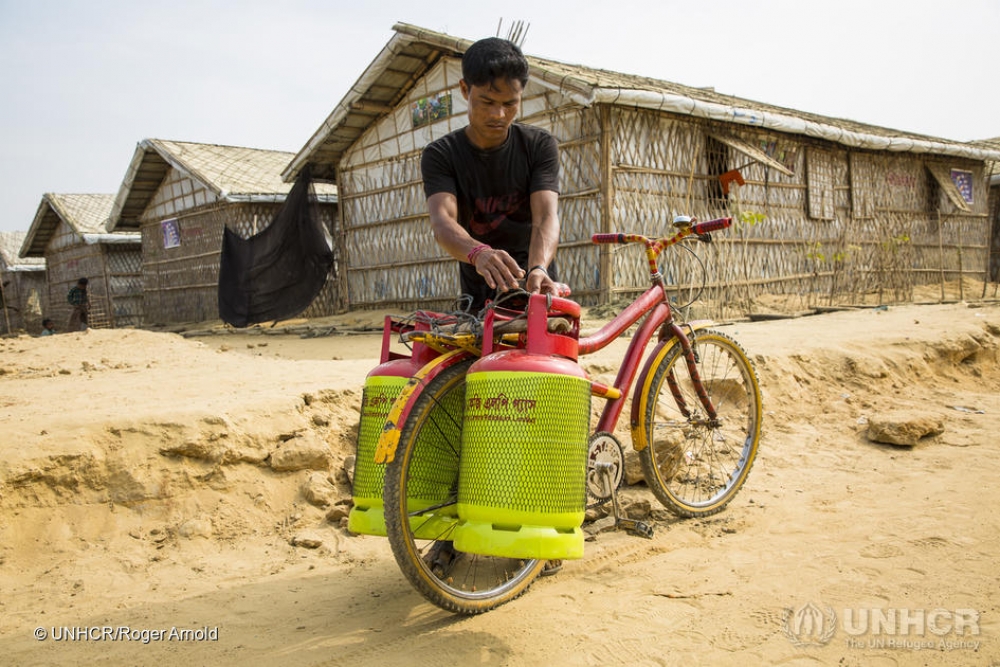 Vision
The SAFE Humanitarian Working Group members envision a world in which all crisis-affected populations are able to satisfy their fuel and energy needs for cooking, heating, lighting, and powering in a safe and sustainable manner, without fear or risk to their health, well-being, and personal security.
Mission
The mission of the SAFE Humanitarian Working Group is to facilitate a more coordinated, predictable, timely, and effective response to the fuel and energy needs of crisis-affected populations.
Membership in the HE Exchange Network is open to all relevant stakeholders contributing to safe access to fuel and energy for crisis-affected populations. Member organization representatives are typically from (but not limited to) the organization's headquarter offices.
You can join the HE Exchange Network by submitting your application through the online form, which will be submitted to the current chair(s) of the HE Exchange Network. Membership in the HE Exchange Network requires a simple majority approval vote by the current members.
You can reach out to elif.demir@unitar.org for any questions.
In March 2007, the United Nations Inter-Agency Standing Committee Task Force on Safe Access to Firewood and Alternative Energy (IASC Task Force on SAFE) was established 'to reduce exposure to violence, contribute to the protection of and ease the burden on those populations collecting wood in humanitarian settings worldwide, through solutions which will promote safe access to appropriate energy and reduce environmental impacts while ensuring accountability.'
The task force was co-chaired by the Office of the United Nations High Commissioner for Refugees (UNHCR), UN World Food Programme (WFP), and the Women's Refugee Commission (WRC). Fourteen other IASC members and non-member agencies participated in the task force to help create a formal commitment to addressing the pressing needs and challenges relating to cooking fuel in humanitarian settings. Over the course of two years from 2007-2009, the task force worked to place cooking energy needs on the map and create guidance material on how to develop a coordinated, multi-sectoral fuel strategy for humanitarian settings. Participation of numerous agencies with various areas of expertise was meant to ensure responses across multiple sectors of invention, as well as long-term sustainability and implementation.
The SAFE task force created two critical tools for the humanitarian system aimed at ensuring the predictable development of holistic fuel strategies in diverse regions around the world:
SAFE Matrix on Agency Roles and Responsibilities
The Matrix is a framework for addressing cooking fuel needs in emergency and protracted response settings. It sets out who (which agency and/or cluster) is responsible for what (which fuel-related activities), and when (emergency preparedness and contingency planning; acute emergency; and protracted crises, transition and durable solutions).
SAFE Decision Tree Diagram
The Decision Tree outlines factors affecting the choice of fuel strategy in humanitarian settings to help determine which cooking fuel options will be most appropriate in diverse response settings.
Both tools reflect the need for humanitarian actors to coordinate their fuel-related activities across all eight traditional response sectors. By doing so, each sector can play its part to ensure that displaced women and girls have safe access to one of their most basic needs—cooking fuel—from the start of every emergency.
Today, SAFE is led by the SAFE Humanitarian Working Group, a consortium of key partners including FAO, the Global Alliance for Clean Cookstoves, UNHCR, UNICEF, WFP, and Women's Refugee Commission, among others.
Safe and sustainable access to energy is increasingly recognized as a human right—essential for the safety, well-being, and productivity of the people that the humanitarian community serves. It is also essential for social and economic development, offering opportunity for improved lives and economic progress. SAFE formally expanded in early 2014 to become Safe Access to Fuel and Energy, thereby incorporating humanitarian energy needs more broadly.
Last updated: 10/06/2021